Project Success Stories

Authoritative Insider's Guide overcomes customer apprehensions.
Our entrepreneurial client was introducing a new service to help small business owners recover money they may have mistakenly paid the government. So we armed their sales force with this "Insiders' Guide" to position them as the experts in the field, and help allay customer questions and concerns.
We also offered the Guide as a website incentive to drive qualified inquiries.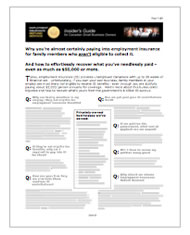 Click here to view close up of two-page Insider's Guide