Project Success Stories

'Six pack' of sales tools helps build credibility with key prospects
FUSION is quick to grasp the value of a client's intellectual property and imaginative in figuring out ways to merchandise it in cultivating key prospects.
This prestigious sales training provider was seeking innovative ways to build rapport and credibility with high potential accounts.
So FUSION created a six part thought leadership direct mail campaign called "Frequently Asked Questions on Managing Major Sales" drawing from Managing Major Sales, a widely heralded book by the firm's founder.
Each mailing consisted of a one-page "FAQSheet" condensing a full book chapter into a pithy how-to guide accompanied by a personalized cover letter by the assigned account manager.
Account managers were tasked with following up each FAQSheet installment by phone to strike up a discussion on the topic in question - with the goal of arranging a face-to-face appointment.
In order to ensure wholehearted participation by the account managers, the FAQSheet campaign was totally turn-keyed – requiring no administration on their behalf.
Prior to undertaking the campaign, FUSION staff contacted all of the named high potential accounts by phone, to identify the names and contact information (including phone No. and email address) of key decision-makers.

FUSION produced each FAQSheet mailing centrally, personalizing each letter to the assigned account manager and "forging" their signature.

Prior to each installment FUSION participated in a conference call discussing the content and significance of the upcoming FAQSheet so account managers could follow up knowledgeably with their prospects.

FUSION also provided email templates should the account managers be unable to get through by phone as well as links to a Website where the FAQSheets were available as PDFs.

As added value, our client was able to repurpose the FAQSheets as Website offerables once the campaign was over.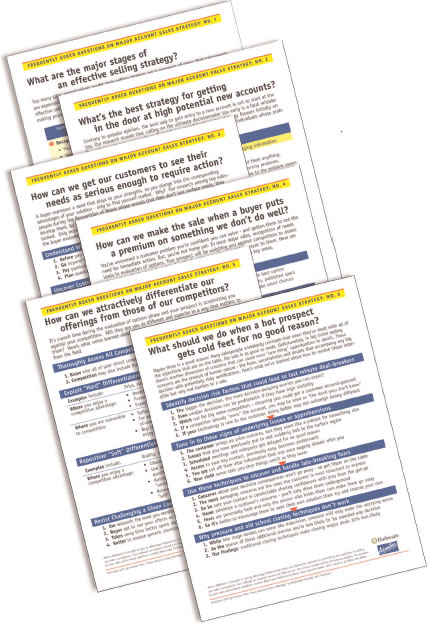 Click on any FAQSheet above or below to view it in detail:
FAQ1 - FAQ2 - FAQ3 - FAQ4 - FAQ5 - FAQ6
View Sample Cover Letter
Second Project Example
FUSION is quick to grasp the value of a client's intellectual property and imaginative in figuring out ways to merchandise it in cultivating key prospects.
For a communications skills leader, we authored a promotion series confronting prospects with high-risk case study situations, and inviting them to choose from four potential courses of action.
The correct answer was revealed in a sealed "Mini-Case Solution" that also shared the underlying rationale and positioned our client as "the resource of choice, when there's a lot riding on how well you communicate in public."
View full size campaign materials here:
Sample Cover Letter - Case 1 - Case 2 - Case 3 - Case 4 - Case 5 - Case 6
Third Project Example
This customer service training leader was seeking to cultivate prospects on the strength of its strategic relationship with a service industry standards association.
So we authored six single-page "Support Metrics of the Month" providing prospects with a blueprint for benchmarking the efficiency of their service and support organization.
Then we provided reps with easily personalized email cover messages with links to the PDFs.
Subsequently, our client was able to repurpose the PDFs as gated offerables on their Website.
Click any of the six PDFs above to view a larger version.